The small collection of artifacts were first displayed in London in 1992. As the collection grew in numbers and stature, exhibits continued in Vienna, Rome and Orlando.
Today, the I.S.A. is involved with musuem exchanges and loans as well as documentation for television, books and other publications.
If you have specific questions or would like to donate items, please contact ISA. You can also contact us for museum and Library loans.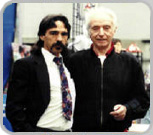 With the legendary Sir Stanley Matthews - soccer greatest Ambassador
(photo - International Soccer Archives)
Interviewing Arsenal and England star - Ian Wright
(photo - International Soccer Archives)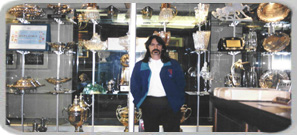 A visit to the Football Association - home of soccer.
(photo - International Soccer Archives)