Collections:
Medals
Game Day Programs
Soccer Card Collection
Rare European Medals
From the Craddle of Football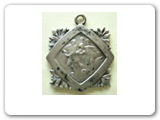 Rare American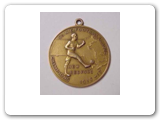 Rare South American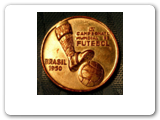 Football Association Programs
The oldest cup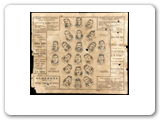 FIFA World Cup Programs
One World ... One Game ...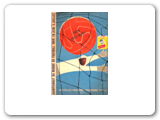 Other Programs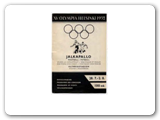 1900-1924
British Cigarette cards - With the turn of the century began the commercial association of footballers and advertising. These samples of OGDEN'S Cigarettes wereproduced between 1900-02 in different flavors and styles.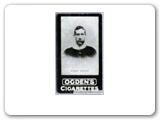 1925-1940
The globalization of Football was realized in the success of Olympic football and the newly organized FIFA World Cup.
From 1925 to 1927 Gallaher's Cigarettes expanded the scope of players to include English, Scottish and Irish clubs in the same set. The 1925 action series were a big step from the usual studio portraits.
The 1928 Greiling Cigarette German issue was landmark as the earliest set to feature foreign clubs. Combining color and action photos make this one of the most desirable. It included players and clubs from England, Austria, Spain, Hungary, Sweden, Germany, Holland, Italy, France and Czechoslovakia.
1941-1957
From war-time football to the re-birth of the FIFA World Cup, high-priced star players were featured on cards.
Peace time football returned in 1946 and with it children's games. This card set included 11 players each from the four British Home Countries: ENGLAND - SCOTLAND - IRELAND - WALES.
GERMANY was banned from international football for several years after the war Only resuming international play by 1950. The war took away precious playing years of some players. However, it did see the return of the British to FIFA.
Tobacco had made its mark. Soldiers took it to war. Cigarette cards resumed as with this Carrera's Turf series from 1948.
There was no shortage of small manufactorers of cards in Italy. Most were small sized with off-cut stock and poor photography. This 1950-51 B.E.A. series was one of the better sets, introducing many foreign star signed to Series A.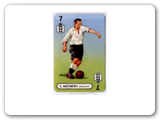 1958-1979
The beginning of a beautiful thing...
1980-2006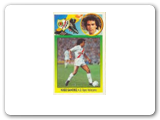 The Ball Is Round
Not all cards have corners. Very early in the legacy of collecting the players were shown on round objects such as coins and buttons.
1980-2006